DFMA® Services
The primary goal at Boothroyd Dewhurst is helping our customers achieve immediate results from DFMA® while establishing an internal DFMA® capability for the long term.
The objectives of our services are:
Train teams in the principles and benefits of DFMA

®

concurrent engineering strategies.
Help users realize immediate design improvements on their own company products.
Encourage design creativity, teamwork and innovation.
Establish a long term capability to develop profitable products that get to market quickly.
Integrate DFMA

®

into the overall product development process.
To assist in achieving these objectives we offer the following services:
DFMA® Implementation Workshop
These hands-on workshops help teams quickly and effectively begin to use and implement DFMA® Product Costing and Simplification. Starting with an introduction to the DFMA® methodology and techniques, and concluding with analyses of your own products, it's a perfect method to begin integration of DFMA® into your company's product development and cost reduction process.
DFMA® Core Training
Boothroyd Dewhurst has developed the DFMA® Core Training course to cover the basic requirements needed to successfully analyze product designs using the Boothroyd Dewhurst methodology. Using BDI's Design for Manufacture and Assembly software, emphasis is placed on using the DFMA® design philosophy in the design and redesign process. Hands on time with the software tools is maximized in this course.
Design for Value Workshop
DFMA® is viewed by many as a VAVE technique. A key input to any VAVE effort is sound, credible Voice of the Customer. This workshop integrates these three techniques together into a more complete set of product development and productivity improvement practices and applies them on your project(s).
Additional Consulting Services
DFMA® Guided Analysis Workshop
A focused multi-day event designed to help an organization understand how DFMA® can apply to its business. Our DFMA® expert will facilitate your team through a DFMA® analysis of one of your products including redesign brainstorming and quantification of redesign concepts.
Process Development & DFMA® Deployment
Integration of DFMA® into your company's "standard work". Our Lean Six Sigma consultants can evaluate your company practices and work with your process excellence leaders to integrate DFMA® into existing corporate processes.
Competitive Product Assessment
Utilize DFMA® to assess and compare competitive product(s) in a structured, objective way. Generate key competitive landscape data to aid product planning and development.
Contact your DFMA® salesperson for details of our additional services.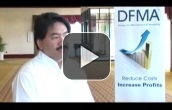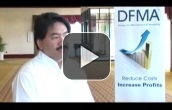 "Promoted a change in design methodology."
"Opened closed minds to new methods of design."
"Made you think from the beginning before you design."
"Real world experience from other companies, not just academia."
"Practical use with (our) product was a valuable part of the program.
"Everything has real life applications-you can't make an argument not to use these workshops."