Editorial contact:
Miles Parker and Lynn Manning, Parker Group
team@parkergroup.com
+1 (401) 272-1510
DFMA Supporter of the Year Awarded to Endress & Hauser's Dr. Volker Frey at 2019 Boothroyd Dewhurst International Forum on DFMA®
WAKEFIELD, R.I., USA, October 29, 2019 - Dr. Volker Frey, Senior Strategy Consultant at Endress & Hauser, received "The Distinguished DFMA Supporter of the Year" award from Boothroyd Dewhurst, Inc. The award is offered annually at the Boothroyd Dewhurst International Forum on Design for Manufacture and Assembly (DFMA®) and acknowledges people and teams that work together in exceptional ways to improve products and educate others in industry.
"Dr. Frey has led an exceptional effort to integrate and automate DFMA into Endress & Hauser's new product implementation process" said John Gilligan, president of Boothroyd Dewhurst, Inc. "E&H is a global leader in the industrial and commercial sensing and measurement industry, and Dr. Frey's sustained enthusiasm for, and deployment of, DFMA as an integral part of the company's motivation for further improvement is second to none."
The Forum was held in Providence, RI, October 1st-2nd, and is the foremost conference worldwide on DFMA methodologies and software for product simplification and early costing. DFMA software helps engineers quantify manufacturing and assembly costs beginning at the earliest stages in development to reduce part count and labor, increase assembly efficiency, and benchmark competitive designs and materials. The resulting savings significantly reduce product development cycle time and reverberate down the supply chain from design through manufacturing and beyond to shipping and end-of-life.
Notable topics presented at this year's Forum included:
Hypertherm: Combined DFMA and Lean manufacturing methodologies to reduce overall waste via a workshop-based approach that leverages cross-functional teams early in each product development cycle.
Kohler Power Systems: Initial DFMA workshop in the Power Systems division resulted in 7 generator enclosure redesign ideas ranging in cost savings from $10k to over $100k on one subsystem alone.
Neoteric Product Development: Showcased several manufacturing processes including EPAC, 3-D Molded Interconnect Devices (3D MID), 3D Printing, and Friction Stir Welding that go hand in hand with the DFMA methodology by simplifying products and manufacturing processes, eliminating parts, reducing assembly labor, and reducing costs while improving overall product quality.
Ortho Clinical Diagnostics: Engineers used DFMA to negotiate with the supply base on relatively low-volume products. Over a three-year period, 38 different supplier costing projects have yielded an approximate $33 million dollar cost savings, with an additional 120 supplier costing projects that have yet to be negotiated with suppliers.
"In today's dynamic design and manufacturing environment, it can be difficult to strike a balance between product cost, time to market, and quality" explained Chris Tsai, Boothroyd Dewhurst Inc.'s Director of DFMA Implementation Services. "Without a concerted and sustained effort to integrate DFMA and other best practices into the overall concurrent engineering strategy, companies fall behind. It's refreshing and invigorating to listen to presentations addressing both product development challenges and solutions within modern-day organizations."
DFMA® is a registered trademark of Boothroyd Dewhurst, Inc.
About Boothroyd Dewhurst, Inc.
Boothroyd Dewhurst, Inc. was the first company to commercialize Design for Manufacture and Assembly (DFMA) methodologies and software tools, which make it possible to evaluate, estimate, and reduce the manufacturing cost of a product in the design phase through product simplification and cost estimation. Hundreds of Fortune 1000 companies, including Dell, John Deere, and Boeing, use DFMA to cut the costs of their manufactured products and achieve design innovation in their markets. The company was founded in 1983 and received the National Medal of Technology Award in 1991. For more information about DFMA software, workshops, consulting services, and international conferences, contact Boothroyd Dewhurst, Inc., 138 Main Street, Wakefield, R.I. 02879, USA. Tel. (401) 783-5840. Fax (401) 783-6872. Web site: www.dfma.com. E-mail: info@dfma.com.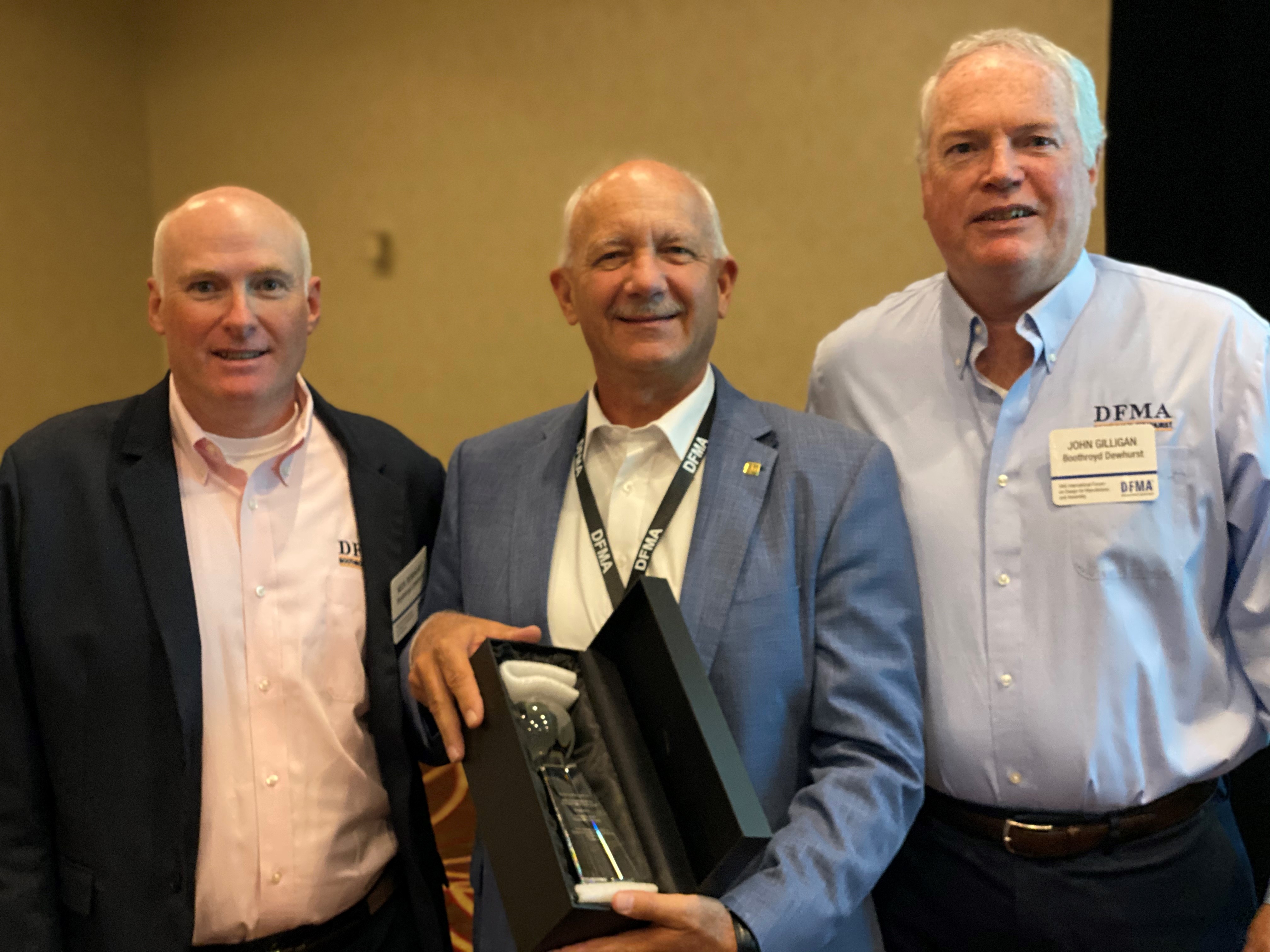 Nicholas Dewhurst (left) and John Gilligan (right) of Boothroyd Dewhurst, Inc., congratulate Volker Frey of Endress + Hauser on receiving the 2019 "Distinguished DFMA Supporter of the Year" award. The announcement was made at the 34th annual Boothroyd Dewhurst International Forum on Design for Manufacture and Assembly held in Providence, RI, USA at the Omni Hotel.