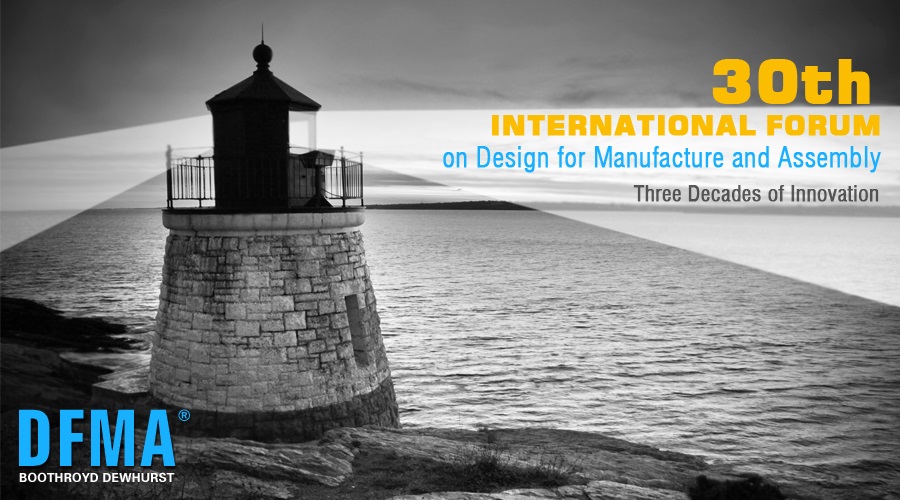 June 2-3, 2015
Providence-Warwick, Rhode Island

Join us for the 30th International Forum on Design for Manufacture and Assembly this June 2-3 in Providence, RI, USA.

The June 2015 DFMA Forum is in its 30th year!

For companies that have dedicated themselves to the viewpoint and science of Design for Manufacture and Assembly (DFMA®) the results have been remarkable. Across every decade where new digital technologies for design and collaboration have emerged—from advanced CAD modeling to FEA multiphysics to PLM—DFMA has offered users a proven path to innovation and costing that has been a high watermark for consistent value and profits.

Cost savings/avoidance has averaged 50% since the time in the 80s when part proliferation was—well—prolific! But each generation of engineering managers has taken up DFMA to push the boundaries of innovation:

IBM created the ProPrinter in the early 1980s as one of the first pure, top-down directional assemblies in industry. In advancing radical snap fits and self-orientating features, the company made a product that hand assembled in only three minutes as compared to 30 minutes for its Japanese competitor, the Epson. A new standard was set for corporations and engineering classrooms that remains today!

Ciba Corning deployed a daring clamshell design for its blood-gas analyzer, stunningly embedding its hydraulics into the main support structure. The reagent manifold was made from a solid block of acrylic, eliminating the need for numerous tubes and reducing hydraulics parts content by 80%. It was such a clever and overall elegant design that the product was shown in the futuristic movie Gattaca (1997).

The 90s saw Dell simplify its electronics boards and chassis designs to the point where improved production throughput allowed them to actually avoid building a new factory, despite rapidly growing international sales of their PCs. Dell saved tens of millions of dollars on labor and materials using DFA and also quantified the profound impact that design decisions have on the larger organizational cost-structure.

Hypertherm, the leader in plasma metal-cutting systems, showed the way in 2005 by charting how DFMA-driven design innovation correlates to factory floor profits. They redesigned half their products during a five-year campaign, reducing labor expenses by 50%, improving service costs by 75% and yielding a 600% increase in profits per square foot of factory floor space. Proving that high-quality products can be built economically in the U.S., Hypertherm ships 50% or more of its systems overseas from its NH-based headquarters.

In recent years, Dynisco, a mid-sized company making extrusion measurement and control equipment for the plastics industry, has offered a textbook case of how to implement the lessons of the past with today's best practices! Using integrated teams from corporate, engineering and procurement, they benchmark concepts up-front with their supply-chain partners, conduct rigorous DFMA at key stage-gates, and then deploy advanced demand-fulfillment approaches based upon those early product strategies. As a final step in the innovation loop, they use Total Cost of Ownership (TCO) to capture the improvement that design excellence is having across the breadth of their organization.

For over three decades, the DFMA Forum has reported on and inspired success. Presenters have repeatedly challenged the status quo in product development and encouraged fellow designers and manufacturing engineers, corporate managers and suppliers to reinvent and go well beyond yesterday's standards. Join us this June 2-3 in Providence, RI, USA, at the 30th International Forum on Design for Manufacture and Assembly, to hear about the very latest practices and innovations.

The Thirtieth annual International Forum on DFMA is the foremost conference worldwide on early design analysis methodologies and implementation. It is the one conference to attend if you wish to gain an understanding of the impact Design for Manufacture and Assembly (DFMA®) has on product development and beyond. Listening first-hand to papers presented by expert practitioners from around the world, you will learn about successful DFMA strategies employed by many different companies across many different industries. You'll gain insight into the product development approaches followed by some of today's most important manufacturers.

Conference papers discuss specific product development strategies and tactics, cost reduction, and how improved product performance and quality are being achieved through greater front-end collaboration. Discover what mix of productivity approaches is available and how these combine to serve you—from DFMA and Lean Manufacturing to Value Engineering. Among the topics covered are why part reduction and the DFA minimum part-count criteria are so important to successful product development; Total Cost of Ownership (TCO); DFMA product simplification and meeting Lean goals; performance metrics and next-generation management science; cost and quality; modularization and inventory postponement strategies; and a case study on fuel-cell cost reduction and TCO.

Whether your job is mechanical design, manufacturing engineering, purchasing and supply-chain management, CAD modeling, prototyping and tooling, engineering management, or motivating teams, you will come away with valuable ideas for overcoming barriers to technology implementation and for solving multidisciplinary design challenges.

The DFMA Forum is a valuable resource for everyone involved in the design-to-manufacturing process and technology management.

Managers, strategists, and financial decision-makers in product development, design, and manufacturing companies of all sizes
Design engineers
Manufacturing engineers
Purchasing personnel
Supply-chain managers

The objective of the 2015 International Forum on DFMA is to provide expert opinions on DFMA and inform attendees about new, value-focused trends in product development. Manufacturing and research leaders will be on hand to answer your questions on such topics as:

Cost management and reduction
Value Engineering
Improving quality/Six Sigma
Lean manufacturing and cost accounting
Product lifecycle management
Outsourcing/offshoring economics: Total cost of ownership (TCO)
Shrinking time-to-market
Product design and manufacturing integration
Team building and productivity management
Concurrent engineering and supply-chain collaboration
Design for disposal and recycling

The conference will present you with many examples of how industry leaders use DFMA fundamentals to reach their product development, customer and business goals. Consider the experiences and evidence they have to share, and judge for yourself how DFMA methodology might serve as a pathway to innovation and increased profitability in your own organization.

Pre-conference Workshop: DFMA Fundamentals
Monday afternoon, June 1, 2015

Join Chris Tsai and Nick Dewhurst for a hands on session teaching the fundamental principles of Design for Assembly. The session will focus on understanding where opportunities in products lie for simplification as well as how assembly difficulties impact labor costs. The session will revolve around the use of sample products where attendees will perform Design for Assembly analysis using fundamental techniques.

What will you learn?

An in-depth understanding of assembly difficulties
Application of a time standard database to develop labor time estimates
Use of the 'minimum part criteria' to drive part count reduction
How and why part count is the most significant cost driver

Agenda

Introductions and overview of DFMA
Design for Assembly Fundamentals
How to use the time standard database charts and worksheets
Analysis of a sample product using the time standards and minimum part criteria
Redesign of the sample product to demonstrate the potential reductions
Conclusions and Wrap up

DFMA Overview and Networking Reception
Monday evening, June 1, 2015

This is a great opportunity to meet people with similar goals and challenges in a casual, social setting and to learn more about DFMA and cost management, organization-wide productivity approaches, and what others are doing right now to optimize their resources and emerge as leaders in this dynamic, globalized economy. Please join us!

New England Clambake
Tuesday evening, June 2, 2015

Join us in the hotel Rotunda for a New England clambake featuring clam chowder, steamed clams, corn on the cob, grilled chicken and sausage, and of course, lobster!

The 2015 International Forum on DFMA will be held June 2-3 at the Crowne Plaza Hotel, Providence-Warwick, Rhode Island, USA.

Overnight accommodations are the responsibility of the individual. A limited block of rooms is being held until May 15th by the Crowne Plaza Hotel at a reduced rate of $145 per night. Rooms booked after the deadline will not receive the discounted rate. Please let hotel personnel know that you are attending the Boothroyd Dewhurst DFMA Forum. Call 401-732-6000. You can book your rooms online using the following link to the hotel website use "BOO" as the booking code, www.crownehotelwarwick.com.

| | |
| --- | --- |
| Monday, June 1 | |
| 1:00-5:00 p.m. | Pre-conference Workshop: DFMA Fundamentals |
| 6:00-9:00 p.m. | DFMA Overview and Networking Reception |
| | |
| Tuesday, June 2 | |
| 7:45 a.m. | Registration and Continental Breakfast |
| 8:30-4:30 p.m. | Forum Papers |
| 6:00-8:00 p.m. | New England Clambake |
| | |
| Wednesday, June 3 | |
| 7:45 a.m. | Continental Breakfast |
| 8:30-12:00 p.m. | Forum Papers |
| 1:00-2:00 p.m. | DFMA Software Demonstration |

The 2016 DFMA Forum will be held in Providence, RI on June 7th and 8th, 2016.